I can help you become unstoppable by becoming better whether you succeed or fail, reinvent yourself so you lead a fulfilling life, become smarter, become more intelligent, emulate some of the biggest achievers – succeed in life, in business, as a professional or as an entrepreneur; or break through glass ceilings and brick walls as a woman or a minority. 
I can teach you how – through do-as-you-learn master classes, blog posts,  newsletters, presentations, keynote speeches, podcasts, books, videos and masterminds.
Learn from my experiences (positive and negative outcomes), knowledge, thinking and insights to navigate the 'new normal' smartly, make more money (even in your current job or business) become more intelligent and smarter and more successful SOONER!
Let's journey together to ACHIEVE YOUR PERSONAL GREATNESS!
I have worked in business for over 30 years and reached several highs and lows but I was unable to achieve spectacular success I expected. I have the drive and the credentials – two masters degrees, one from MIT, a business degree, an extensive network, knowledge and skills, extensive travel, experiences and constant learning….but something was 'in my way'.
I looked at external reasons and talked to many friends, professionals and accomplished people who gave me advice which didn't answer my question. I looked into every popular answer to my problem and ended up not finding 'my obstacle'. I have spent tens of thousands on well-known 'gurus' (whom you have probably paid as well!).
Then, it dawned on me. I realized that I WAS THE OBSTACLE – things within me that were impeding my own success. I set out to identify, understand and figure out a way to identify and 'eliminate' them. I then realized that millions of others have the same 'silent killers of success' – even very intelligent, smart and successful people.
I figured out that the best way to deal with uncertainty and to become unstoppable was to become better whether I succeeded or failed – I figured out how to do that. Learn more at www.iUnstoppable.org 
MONEY magazine called me "The Comeback Kid" for how I reinvented myself many times.
I figured out that business thinking – a skill that can be learned by anybody (but most don't) was essential to be more successful. I also figured out why many smart people do not achieve the level of success they expect.
I have built a separate websites devoted to teaching business thinking and developing a business mindset – BusinessThinking.com. Each of you can learn, become more intelligent and smarter, and more successful –  iSmartANDSuccessful.com. I have figured out many of these things (often, the hard way), and am on my journey to becoming more intelligent, smarter, a better business thinker, and more successful – and teaching millions.
I also monitor, distill and share strategies, tools and insights to navigate the dramatic changes from the pandemic, climate change, artificial intelligence, automation, , robotics,  at SucceedingINtheNewNormal.com
I can save you the pain and agony if you are open to learning and applying my insights to ACHIEVE YOUR PERSONAL GREATNESS!
From real-world experience, from speaking to experts, from speaking to successful (and unsuccessful) people, from deep thought and a GENUINE DESIRE TO HELP MILIONS BECOME SMARTER AND MORE SUCCESSFUL.
Thought Leader
I have an innate ability to 'connect the dots', make sense of the world around us – sometimes the obvious – and explain it in simple terms.
Keynote Speaker
I get juiced up when presented with opportunities to make large audiences think and become better, smarter and more successful!
Author
I am very good at explaining the important, complex and necessary things in simple and practical terms – in a conversational tone.
Workshop Leader
I am good at helping people to put knowledge and insights into practice. Come with questions and issues,….leave with the confidence and a plan to create a better life.
MIT Graduate
I 'learnt to learn' at MIT and to expect more of myself, and what I can do for others. I'm glad you're here. Let's work together to achieve your personal greatness!
Podcast Host
Being curious by nature, I ask probing questions that you probab-ly want to ask the experts, and engage them to share practical in-sights and stories that can help you
In my books, I share my learning from my own education and experiences, and from speaking to experts and hundreds from across the world – those who have 'succeeded' and those who have 'failed'.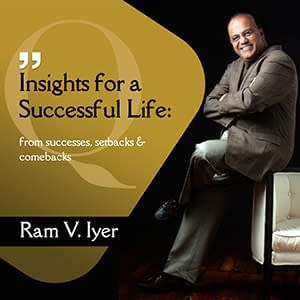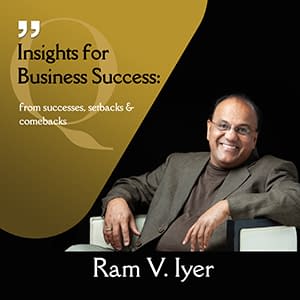 I get juiced up when presented with opportunities to make large audiences think and become better, smarter and more successful! I give keynotes and conduct workshops around the world – learn more about them here. You can hear testimonials from some of my previous keynotes below:
SUCCEEDING IN THE NEW NORMAL
Understand, reinvent &  thrive
BUSINESS THINKING
Create more value & make more money – for individuals & businesses
IMMIGRANT ACHIEVERS
Learn the playbook of the achievers and become an achiever
SMART & SUCCESSFUL
Learn how you too can become more intelligent, smarter & more successful
Click each panel to view larger image.
"I thoroughly enjoyed the interview with Ram. I had scheduled twenty minutes but continued for over an hour because his questions were so engaging"
"I loved being interviewed by Ram! He asked incredibly insightful questions. As an added benefit – I learned so much from him during our discussion. Along with being a great interviewer, he is an amazing thinker!"
"An interview with Ram is a treat. He asks thoughtful, probing questions and the conversation develops as a real dialogue. I'd sign up to talk with him any time! Business Thinking Radio is one of the great podcasts"